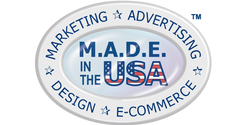 Looking for a Difference? Our M.A.D.E. in The USA Entrepreneurial Training Is That Difference In Arkansas.
Thank you for visiting our website! We know there are seemingly similar offers of Entrepreneurial Training and Development in Arkansas; however, we believe that ours totally stands out. Our M.A.D.E. in the USA business training is one of many helpful and unique products and services of LAF Productions, Inc. It is a difference maker in our market and different offering whose time has truly come!
Building a start-up can prove to be a tough but rewarding challenge. Hard work is most effective in easier times. Our step-by-step guided training makes easy the process of learning to take the right steps the right way the first time. This key benefit alone will prove priceless as you efficiently and cost-effectively achieve your entrepreneurial goal much faster with less stress, minimized efforts and a greater peace of mind. We make learning something new feel like remembering something that you have already known. You will answer many questions in your mind before they are fully asked and certainly before the presentation ends or the session finishes. Now, the entrepreneurial process is no longer hard ... more simply put ... it is just new to you!
Our M.A.D.E. in the USA business training furthers its difference because our measure of success is determined by each attendee that properly completes his or her business filing within their selected state of incorporation. It is through this discipline of accountability that our apprenticeship-style training method was developed. Your success or failure in life is often separated only by opportunity or the lack of it.
Success occurs when opportunity and preparation meet. This is your opportunity! Do not miss it. We want our fellow Arkansans truly prepared to succeed in business marketplaces locally, regionally, nationally and globally! We sincerely believe that through our M.A.D.E. in the USA Entrepreneurial Training and Development, your comeuppance is closer than you realize!
The synergy from our training will produce exponential development, growth and momentum that will in time prove fruitful for the duration of your life and the lifetime of future generations.
On second and fourth weeks of the month, we offer four (4) classes Monday through Thursday evenings from 6 PM - 9 PM, each with a different session topic. We also offer a full day training on the fourth Saturday of the month from 9 AM - 4 PM. You must pre-register online or download the proper form with its corresponding seminar and mail it; however, group discount rates only apply online. Not only are our sessions modular, but we are mobile, too. For groups of fifteen (15) or more that pre-register, we can travel to your location to train at a date and time best for you.
Our developer, facilitator and lead trainer of the M.A.D.E. in the USA business training methodology,
Larry Freeman
, is also a CEO and successful founder of several business ventures. Having a sincere desire to see others do the same, he teaches everything he knows with a passion, zeal and conviction that can only come from someone who is actively living and fulfilling his dream!
---
If you get, give. If you learn, teach.
-Maya Angelou

Attain ... Maintain ... Sustain
---

Group Discount Rates:
Our built-in group discount rates automatically apply: 10% off per registrant when three (3) to six (6) attendees register together & 15% off per registrant when seven (7) or more register together. For groups of fifteen (15) or more that register, we can travel to your location at a scheduled time and date. If you have any questions or concerns, email us by clicking the Contact Us button below.

---

Online Registration:
Please select the training session(s) and date(s) that's best for your availability.
---
Here Are a Few Benefits That Our M.A.D.E. in The USA Entrepreneurial Training and Development Offers You.
Benefits of our presentation design are as follows:

Easy-To-Follow Instructions

Easy-To-Read Design

Easy-To-Understand Language

Essential Links to Valuable Information

Helpful Bookmarks for Time Management

Quick Navigation

Reliable Research

Same Presentation Visuals for Faster Recall

Ultimate Modern Business Start-up Guide


Our M.A.D.E. in the USA Entrepreneurial Training and Development gives you the attention you deserve. We get you started on becoming an entrepreneur faster than any other business training course because we convert information into application together during the course of our sessions. You are encouraged to bring your laptop or tablet to help capture creative thoughts, expedite key procedures and bookmark essential websites. Lastly, you can purchase and download the same presentations from which we train! Each purchased download comes complete with a plethora of live links and a FREE step-by-step guide included, making it the Ultimate Modern Business Start-up Guide. Remember, this is apprenticeship-style training directly from a current Arkansas business owner!

---
Is the Current State of Your Health Good Enough to Attain, Maintain and Sustain Your Wealth? Know Your Numbers.
The task of building or growing a new business requires a good amount of energy. Getting things completed and done can be the difference in how you feel. You do better as you feel better. Feeling good is half the battle. The other part is knowing your numbers from preventive health screenings, of which you can get FREE any Saturday of the week from
Synergy Saturday
.
Synergy Saturday is an inter-professional mobile screening event. For more information, plus location and times, click the button below.
---

---

So, Why Are You Waiting? M.A.D.E. in The USA Business Training Is Ready to Help You Start or Grow Your Business Today!

It is our goal to

Educate Arkansas: 2 Create Entrepreneurs 2 Create Jobs 4 Arkansas

. If you want a personable, apprenticeship-style training experience that offers best value for your time and money, register today ... M.A.D.E. in the USA!

---